Tag

Amazing things come in small packages! This little chip delivers unmatched reliability, read rates, and accuracy in the timing industry. No other chip is as versatile. Attach it anywhere: race bib, wristband, ankle, shoe. With read heights rated over 6 feet, triple frequency transmission (for redundancy and anti-collision), and superior performance under any conditions, including mud, snow, and water, we challenge anyone to NOT get a read. This new Tag is even better than the original — the battery never needs charging and is estimated to last 7 years under expected working conditions.
*Battery life depends on the condition of timing operation and/or storage environment.
**Store indoors. Avoid leaving around magnetic area and/or electronic equipment. 
Receiver
The Receiver is the brains of the system. It connects to the Mat, tunes it automatically, and receives and stores data from chip detections. You can connect directly to your laptop computer for live race timing, or download data quickly and easily with a USB flash drive. Set the clock via GPS (included) or sync it with your PC. Change settings easily with the Control Panel software (supplied), or write your own interface if you're a computer geek — see the Communication Specification document. Includes a built-in backup battery intended for short-term emergency use only. Nice touches

include a hinge door for the connection cables, which allows the main lid to remain closed during inclement weather, and a view window in the lid, so you can keep an eye on settings.
Available in Eco models. Eco come in 3-channel, 5-channel, or 8-channel options.  Eco models are smaller, lighter, and more portable. 3-channel receivers can be used with a 2-meter mat, 5-channel receivers are designed for 4-meter mats, and 8-channel receivers are designed for 6-meter and longer mats.
Yagi antenna

The Yagi antenna is one of the receiver's accessory. Yagi antenna  is a directional antenna consisting of a driven element.We would like to stress that J-chip systems is designed for putting the tag on the torso,as well as to perform under any type of environmental condition.Therefore,J-chip receives the tag data with 2 different specific antennas.One is the dipole antenna in the mat and The others is Yagi antenna on the tripod.
Mat
At only 2mm thick, the J-Chip Mat is thin, light, and quick to set up. It's made of a super durable rubber that can be cleaned easily with a garden hose. The trigger cable and receiving antenna are embedded in the mat. Just unroll the Mat, plug the cables into the Receiver, and you're ready to capture chip data in seconds. Use the Yagi antenna (included with receiver) for optimal performance. Choose Mat length from 4 to 12 meters. Note: mat color is black.
Tag Checker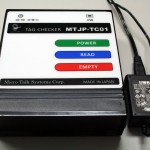 Each Tag has a unique 6-digit hexidecimal ID number. The J-Chip Tag Checker makes it easy to create a file containing Tag ID numbers and Race Numbers, an essential part of the chip timing process. Just plug in the Tag Checker, connect it to your laptop computer using the supplied USB cable, start the HyperTerminal applet, and begin scanning chips by passing them over the Tag Checker. Each time a chip is detected, the Tag Checker beeps, displays an LED light, and sends the Tag ID and battery status to the computer. After you're finished scanning chips, open the file in a spreadsheet program like Microsoft Excel, and assign Race Numbers to each tag.